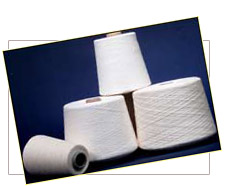 Yarn
At Ventura, we believe quality is a systematic process of carefully monitoring and evaluating each process, thereby achieving a product of impeccable standards.

Hence right from the cotton selection, our qualified & trained specialists strive to achieve quality and efficiency to achieve the highest possible uniformity and reproducibility of package characteristics.

Efficient spinning translates to a good price-performance ratio, thereby making our products more competitive in international markets.

We are competitively producing between the count range 4 s to 16 s (Open End) yarns. Apart from that our yarns are specially tailored to the requirements of our clients, satisfying parameters of the highest level.